Superb time at Sabi Sabi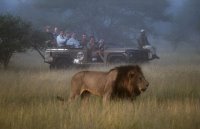 We had an absolutely wonderful time at
Sabi
Sabi
!
The service was excellent, the food was superb, the rooms were marvellous and the surroundings
beautiful
. We had some fantastic game drives and saw loads of animals, followed leopards, spotted lions, hung out with elephants and greeted zebras.
The only small comments I would give is that the ranger
didn
't need to eat with us every evening. Once might have been OK, but we would have been very happy to be on our own but felt a bit obliged to dine with him…which I am sure can't be that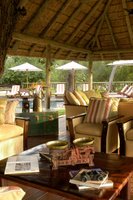 much fun for him every evening. It probably
didn
't help that our ranger, was very good at the game drives but his social skills were perhaps not as excellent. Another small thing: We were surprised to be asked for tips – and that the amount suggested were as high as they were (R 150 for the ranger from each person each day…that is more than most people earn and that is just his tip!) Of course it was voluntary but it was surprising nevertheless. These are just very minor things and only worth mentioning because the rest of the experience was so superb!!!
Best and thanks a lot,
Ida
Labels: Kruger Park area, Sabi Sabi, Sabi Sand, South Africa