Camps in the Kruger Park
Thank you for the warm, friendly and very efficient service from the point of contact right through to the follow-up after the trip.
We returned from our trip to the
Kruger Park
on Saturday, having booked one additional stay-over at
Malelane Rest Camp
so that we could enjoy Friday as our last day in the camp while the sun was out!

Armed with the confirmations all the check-ins went very smoothly and although it rained or was very overcast at least 60% while we were there and the park had lots of water, lush vegetation and thick bush - we still had some extraordinary sightings.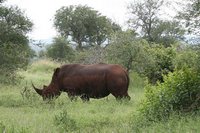 Leopard still escapes us of the big five, but had plenty
Elephant, Buffalo, Lion and Rhino
sightings along with a stunning Cheetah sighting. All the grazers had lots of babies and young calves and all the animals look in superb condition. Other highlights were Hyena pups, and the birdlife was incredibly active - seeing many of the Roller and Francolins throughout the park, Fish Eagle, Brown Snake Eagle, Tawny Eagle, Kori Bustard, Buzzard, Vultures, Saddle-billed and other Stork, Ground Hornbill, and for me the crown was a Martial Eagle that swooped across directly overhead the vehicle.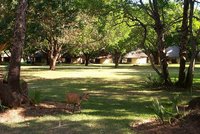 During the stay, the phone lines were down several times/days causing problems for credit card users - but we had fortunately made sure we had sufficient cash for the trip although we were concerned the last few days. We did not have
Skukuza
and
Letaba
planned in on the travel, and these are the two camps that have ATM facilities that I am aware of.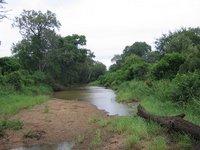 We enjoyed each of the camps we stayed in which all have their own charm,
Shingwedzi
,
Mopani
,
Olifants
,
Talamati
,
Satara
and
Lower Sabie
. Mopani got incredibly hot peaking at 43 Deg C while we were there - so we didn't mind the cloud cover at all. Not fantastic lighting for the photographers though!
One thing to remember is that the booking is actually made under SATours and Safaris and not the individuals name. It wasn't a problem, just a tip to perhaps let other clients know.

We are planning the next trip already so we will be in contact again soon. Just have to figure out my travel schedule for 2008 so we know over which period to schedule the trip.

Kind Regards,
Tracy
Labels: Krugar Park, Kruger Park area, Lower Sabie. Mopani, Malelane, Mopani, Olifants, Satara, South Africa, Talamati